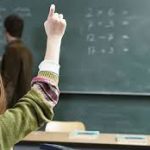 Hundreds of Donegal teachers are to take part in a lunchtime protest next Thursday in opposition to proposals for Junior Cycle Reform.
Teachers maintain the changes will will undermine standards, equity and fairness.
The protest is being organised by second-level teacher unions the ASTI and the TUI.
Neill Curran is the Donegal representative for the ASTI - He says more strike action next term seems likely, particularly as parents are being supportive of the teachers' action......