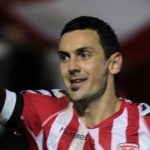 The family of former Derry City player Mark Farren have ask football supporters in the northwest for help in raising vital funds that would help save his life.
Some of Mark's former team mates are coming together to support the family in raising €30,000 for treatment in Germany.
The Farren family released a statement on Friday appealing for support.
"After six years of fighting against a life-threatening condition, Derry City legend Mark Farren needs your help.
Mark's third surgery took place a month ago and surgeons removed 80-90% of a tumour. The invasive nature of the tumour has had a stunting effect on his speech and mobility. The biopsy which followed has indicated that the tumour is a grade 4, meaning it's highly aggressive.
Being no stranger to thinking outside the box, Mark is seeking medical assistance from an elite cancer centre in Germany. The six week treatment programme is his best chance of saving or at least prolonging his life. Treatment will cost approximately €30,000.
This is the one goal with which Mark needs our help and any contribution is greatly appreciated.
Over the coming weeks there will be a number of fundraising activities led by Mark's former team mates Kevin McHugh, Ruaidhri Higgins and Ciaran Martyn, along with PFA Ireland and other sporting bodies, including Mark's former clubs Derry City and Glenavon."
The Farren Family