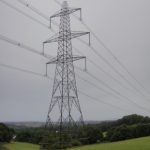 The proposed North-South electricity interconnector from Tyrone to Meath is being discussed by TDs and Senators this morning.
The Joint Committee on Transport and Communications is continuing a series of meetings on the development.
Monaghan Anti-Pylon committee will give its views on the possible impact of those living around the path of the planned interconnector.