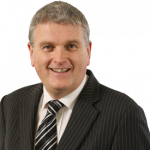 DUP sources have confirmed to the BBC that Jim Wells has resigned as Northern Ireland health minister.
This morning's Belfast Telegraph is reporting that Mr Wells has left the post to care for his wife.
It is believed the Police Service of Northern Ireland is trying to establish if an offence has been committed after Mr Wells's made remarks at an election meeting in County Down during which he linked same-sex relationships to child abuse. He later apologised, saying he meant to say unstable relationships.
At the weekend, Police confirmed they were investigating after an  incident was reported to them.