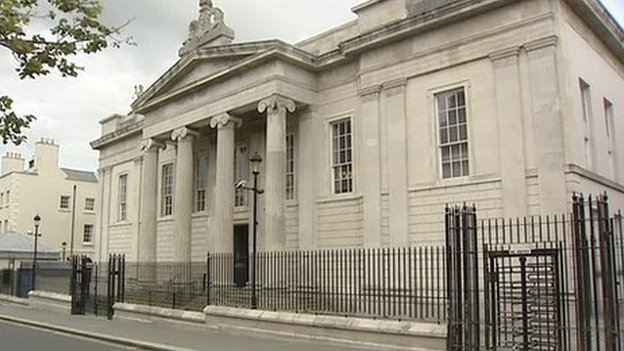 A former British soldier who lined his children up 'like mini soldiers' before punishing them sometimes with a poker has been jailed for ten and a half years at Derry Crown Court.
The 60-year-old man from County Derry who cannot be named to protect the identity of his victims, had admitted three counts of cruelty to children, two counts of common assault and seven counts of indecent assault against his daughter.
All of the offences occurred between 1980 and 1994 and involved the man's two sons and one daughter and began when the children were aged around four.
The court heard that the man would line the children up for punishment and 'he started off using his hands, but that graduated to the use of a belt, a brush and finally a brass poker.'
The children had told police they were 'hit with anything and anywhere' and on one occasion the man headbutted one of his sons.
The sexual abuse against his daughter began when she was eight and he would force the child to perform a sex act on him.
The abuse continued until the girl was in her teens.
Judge Babington read extracts from the victim impact reports compiled by the victims.
One boy said: "It was like at times that all of us the three children were in the military. Disobedience or defiance was immediately responded to by a beating."
The daughter said "he ran the house like an army camp and everyone had to do what he said or be beaten."
A member of probation summed up the abuse as 'a harrowing catalogue of physical abuse which makes difficult reading.'
Sentencing the man to ten and half years in prison the judge ordered that he sign the sex offenders register for an indefinite period.
He also imposed a sexual offenders prevention order banning him from contact with children under 16 and forbidding him from entering into a relationship with a female without first informing her of his sexual offences.