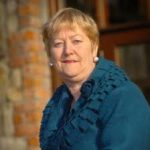 A special meeting of the Donegal Education and Training Board will take place on Monday next to discuss the future of Colaiste Chineal Eoghain in Buncrana, which is set to be closed on a phased basis because of insufficient numbers applying for enrolment.
The special meeting was sought by Cllr Rena Donaghey, a member of the board from Buncrana, and follows a meeting yesterday between the board's CEO Sean Purcell and the three Donegal North East TDs.
They are now raising the issue with the Department of Education.
Cllr Donaghey is hopeful that the only Irish language secondary school in Inishowen can be reprieved........