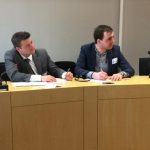 Donegal Councillor Jack Murray has returned from Brussels after taking part in a delegation to the European Parliament to raise concerns with the EU Commission about about ongoing international trade negotiations.
If the TTIP - Transatlantic Trade and Investment Partnership - talks reach a successful conclusion, Cllr Murray says it could have serious consequences for Ireland.
He says many people are unaware of the discussions, and have no concept of the impact they could have.
Cllr Murray says as well as potentially opening the doors to cheap agricultural imports which don't meet the same standards as those imposed locally, an agreement could also have serious implications for Irish sovereignty......