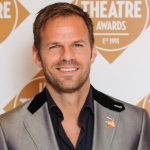 Ben Richards has said he still cannot believe he has become a father after doctors told him he would probably never have children following a diagnosis of bowel cancer.
The Holby City actor, who is set to appear in Hollyoaks from next month, posed for pictures with his partner Kirsty Duffy and their daughter Freja Amelie, who was born on March 31.
He told Hello! magazine: "To be honest, I am only just starting to get round to the idea that someone isn't going to say, 'Cut!' and take her from me.
"Sometimes I think I'm just playing the role of dad and round the corner is the actual mum and dad waiting for the scene to finish. I'll have to say, 'Thanks, mate,' and give her back."
Kirsty, who co-presents The Wright Stuff on Channel 5, said baby Freja had had "such a massive effect on our lives".
She said: "Ben and I cannot believe you're able to love someone so much. I love Ben to pieces, but this is a different love and my heart is bursting every time I look at her. I am so in love with this little thing."
Ben, who lost seven babies with his wife in his previous marriage because of a rare genetic disorder they both carried, said: "For us it's a miracle. We love her and I'll do everything to protect her."