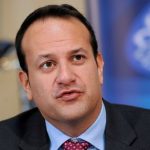 Donegal Junior Minister, Joe McHugh has defended the Health Minister for not visiting Co Donegal yesterday while he was in Derry.
Leo Varadkar attended a North South Ministerial Meeting at Altnagelvin Hospital yesterday, during which he viewed progress at the new Radiotherapy Unit.
However, Minister Varadkar didn't have time to come across the border to Co Donegal, despite pleas for meetings from a number of campaign groups and local politicans.
Minister Joe McHugh says Minister Varadkar would only have had an hour to visit Donegal yesterday, which wouldn't have been sufficent.
He pledged that the Health Minister will come to Donegal at a later date........
As well as visiting the new radiotherapy unit at Altnagelvin, Minister Varadkar also visited the new cardiac facility at the hospital. He confirmed that arrangements are being finalised to allow around 50 a year Donegal patients in need of urgent specialist care to be brought to the Derry unit rather than being airlifted to Galway.