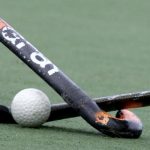 Raphoe 1st XI men beat Ulster Senior 1 Champions South Antrim 3-2 at the Royal and Prior School Grounds on Tuesday in a thrilling encounter.
Raphoe led 3-0 at half time after one of their best halves of hockey all season, the goals where scored by Ben Wallace, Kit Regan and Alan Meehan.
South Antrim came back strong in the 2nd half, scoring twice but Raphoe held on for the victory.
South Antrim had already won the Senior 1 league title as they cannot be caught at the top.
The Donegal side impressed against South Antrim this season beating them for the fourth time in both league and cup competitions.
Raphoe have 3 remaining league games and can still secure 2nd place and promotion if they win all 3 matches.
Remaining games
Sat 18th North Down Away 1.00
Sat 25th North Down Home 2.30
Queens Home, date to be confirmed.