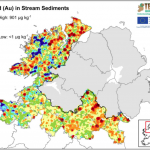 The prospect of a major gold find in Donegal has been raised once again following the announcement that a mining company has been granted five new prospecting licences covering 187 sq km on the Innisowen peninsula.
Conemara Mining's geologists believe there is a very good chance of making a high grade gold find in the region, and the potential is also there for the discovery of other base metal deposits.
The release of the the most recent Tellus geochemical field survey data confirmed the presence of elevated gold in the area, after rock samples containing quantities of gold were identified in 2011 by a previous licence holder.
After studying the available data 16 target areas have been identified by Connemara.
The company's chairman, John Teeling commented on the deal, he says that the company is taking an "aggressive stance" in targeting Ireland's next gold discovery.
He says it's worth noting that the new licence block is located within the Scottish-Irish Gold Belt, and follows the discovery by Dalradian Gold, who recently announced an inferred gold resource of 3.5 million ounces."
Gold has been found on the Monaghan-Cavan boarder, Easky in Sligo, Killashandra in Co Cavan and Co Tyrone.