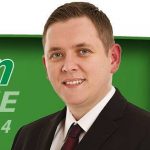 A Donegal County Councillor has called for a freeze on granting planning permissions on windfarms until new guidlines are adopted.
Cllr Gary Doherty says the increasing size of turbines being proposed means the guidlines in exsistence are not fit for purpose.
The Council passed a motion today calling on the Environment Minister to introduce a moratorium on the granting of planning permission to developers until a review of planning guidelines is carried out.
Cllr Doherty told Highland Radio News that he is part of a cross border network which will see similar motions in councils on both sides of the border, with the hope of meeting both environment ministers sooner rather than later............