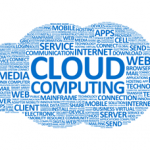 A survey has found that hundreds of Donegal SMEs are failing to embrace cloud technology.
The research shows that just 14% of small firms in Donegal say they have implemented a cloud solution of some kind for their business, compared to 45% in Dublin.
Over 90% of SMEs in Donegal are still using and paying for a conventional phone system, which according to the research could be costing small business in Ireland over €266 million per year, much of which could be taken out of the sector's cost base.
By contrast, a quarter of Dublin SMEs have moved to a cloud phone system.
Mark Kellet helped carry out the survey............