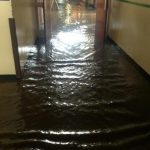 Donegal Councillor Dessie Shiels is demanding that Health Minister take action after a report by council planners concluded that there was pre-existing knowledge of flood risks at Letterkenny General Hospital.
Cllr Shiels says the report clearly shows that the serious flooding in 2013 and 2014 which could have been avoided.
He's now planning to write to Minister Leo Varadkar asking why the HSE failed to take action, and urging him to hold those responsible to account.
He says the HSE now faces serious questions as it finalises its own report into the floods.............