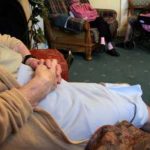 Age Action Ireland says that older people with certain medical conditions aren't being properly served as part of the Fair Deal scheme.
It comes as a review of the scheme was released on the cost of nursing home care here.
Older people taking part in the scheme, are currently paying 80 percent of their disposable income, as well as charge on their total assets.
Age Action Ireland says that the Fair Deal scheme doesn't include important treatments and facilities such as physiotherapy or wheelchairs.
Spokesperson for Age Action Eamon Timmons says says this doesn't happen in other areas of the health service............