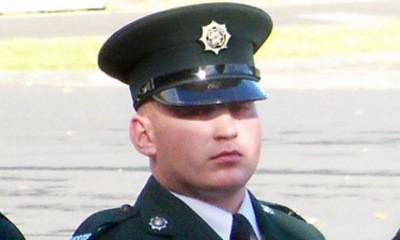 The key to catching the killers of Constable Ronan Kerr lies with local communities, the detective in charge of the murder investigation has said.
The 25-year-old died in a booby-trap car bomb in Omagh, County Tyrone, on 2 April 2011.
No-one has ever been convicted.
On the fourth anniversary of Constable Ronan Kerrs murder in Co Tyrone, Police have issued a fresh appeal for information.
The PSNI say there are "considerable challenges remaining in this lengthy and complicated investigation".
A spokesperson said although a significant amount of progress has been made, the key to putting people before a court charged with this murder lies with local communities in Omagh and east Tyrone.
Police say the investigation into Constable Kerr's murder and a series of linked incidents had "generated a substantial amount of investigative activity.
Mr Kerr, who was a Catholic and an active member of the GAA, was seen by many as a symbol of Northern Ireland's new police service.
He was the second officer to have been murdered by paramilitaries since the Royal Ulster Constabulary became the PSNI in 2001.
Dissident republican paramilitaries have been blamed for the killing.