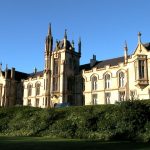 The North's Employment and Learning Minister Stephen Farry said today he is conscious of the strong case being made for the further expansion of the University of Ulster's Magee campus in Derry.
He was speaking as he confirmed that the development of the new teaching block at Ulster University's Magee campus will go ahead this year.
The block include a new 340 seat lecture theatre.
Announcing the go ahead for the project, Minister Farry said the new block will ensure that all available teaching space is used efficiently.
He sdaid undergraduate student numbers at Magee have been increased by 568 in recent years, and the new teaching block is a necessary important addition to the Magee campus.
He added this development is a strong signal of the importance of the Magee Campus to the economy in the North-West, by increasing the capacity of the campus in line with the One Plan's interim target for an additional 1,000 students.
Construction of the teaching block will commence later this year and will take two years to complete.
Professor Alastair Adair, the Acting Vice-Chancellor of the Ulster of University, said today's announcement is another step forward in realising their strategic vision for the Magee campus.