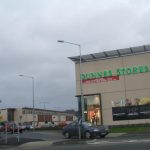 It's been confirmed that Letterkenny's two branches of Dunnes Stores are not affected by a national one day work stoppage today.
107 Dunnes outlets across the republic are being picketted in a dispute coordinated by the Mandate Trade Union, but the union has no members in Donegal, so no pickets are being placed in Letterkenny.
The dispute concerns the use of 'zero hour' contracts by Dunnes Stores.
Ministers have urged the union and the company to use the Labour Relations Commission, but the union claims the company refuses to attend and engage.