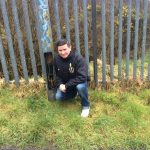 A Derry and Strabane Councillor has hit out at vandalism on the walkway between Glenowen and the Creggan Country Park, saying he fears someone could be seriously injured or even worse if it continues.
Councillor Colly Kelly was called to the area this week after a number of incidents, including the removal of a cover on a lamp post exposing bare wires and the burning of a wheelie bin.
He's now meeting with a number of groups in an attempt to nip such activity in the bud.........