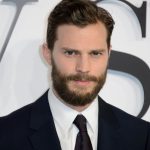 Jamie Dornan has revealed how he stalked a woman on the Tube in preparation for his role as a serial killer in The Fall.
The Fifty Shades Of Grey star, who appeared opposite Gillian Anderson in the show, said he kept his "distance" and did it in a "really half-hearted" way.
He told the LA Times: "I like, followed a woman off the train one day to see what it felt like to pursue someone like that."
He added: "It felt kind of exciting in a really dirty way and I'm not proud of myself but I do think I learned something from it".
The BBC Two show was critically acclaimed but has also been accused of glamorising violence against women – with its writer saying it "lingered too intimately" on the killer's brutal crimes.
The drama, which attracted more than three million viewers, revolved around Jamie's character attacking young, professional women.
The first series, directed by Jakob Verbruggen, was accused of being gratuitous for the way the camera lingered on the murderer's crimes.