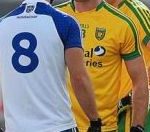 The GAA has warned against making knee-jerk changes to the rules in a bid to counter-act the ultra-defensive set-ups in inter-county football.
Last Saturday's low-scoring Allainz League contest between Dublin and Derry has re-opened the debate about the negative style of play that is being employed by managers.
Chairman of the GAA's Standing Rules Committee, Jarlath Burns has admitted that it could be difficult to legislate against negative tactics...