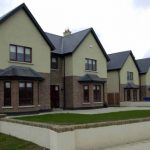 €34 million is to be invested in social housing in Donegal between now and the end of 2017 as part of a €1.5 billion euro national programme.
The initiative, a mixture of building, buying and leasing will see 507 new units made available in Donegal over the next three years, with the government predicting it will accommodate 30% of those currently on the housing waiting list in the county.
Junior Gaeltacht Minister Joe Mc Hugh says this is a highly significant development for people on the housing list and is the first major investment in local authority housing in Donegal for some years.
He says it will make a significant difference.........