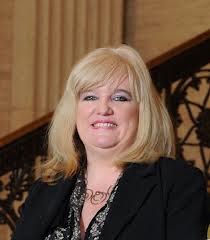 A Foyle MLA has accussed the North's Health Minister of failing people dealing with addiction issues by ruling out cross-border cooperation in the north west.
Jim Wells has indicated he does not believe that a service agreement with Whiteoaks in Donegal is viable.
However, Maeve Mc Laughlin says health is an area where it has been proven that cross-border cooperation can make a real difference.
Ms Mc Laughlin, who chairs the Assembly's Health Committee, says problems associated with substance abuse and addiction do not recognise borders, and neither should the strategies put in place to deal with them.
She says Whiteoaks offers Derry a purpose-built detox and addiction treatment facility on it's doorstep, but this facility is not being used because of a lack of cross-border cooperation.
She says she raised this issue with the previous health minister who said he would explore greater cooperation with the two health authorities. However, she says the current minister, Jim Wells, has now ruled out increased cooperation over Whiteoaks.
Ms Mc Laughlin says that is unacceptable, and is failing all of those who are struggling with addiction.
She says addiction issues cost the health service £250 million a year in Northern Ireland, and everyone should be exploring new and innovative ways of tackling it.