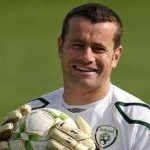 Ireland are still hanging on in their Euro 2016 qualifier group following last nights 1-all draw with Poland at the Aviva.
It means we're on 8 points while Germany and Scotland who both won yesterdays re on 10 and Poland lead on 11.
Shay Given returned to goals for the Republic last night earning his 128th international cap.
The Lifford stopper wants to prove to Martin O'Neill he has what it takes to stakes his place in goals.
Shay says it wasn't long before kick off when he was told he was starting...