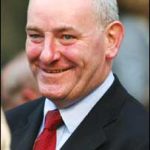 Foyle MP Mark Durkan has welcomed the news that after a year of protracted price negotiations between the British government and drug manufacturers a deal has been struck.
The life-saving vaccine against Meningitis B disease will be made available for free on the NHS for babies in Derry and across the North from September.
Mr Durkan, who tabled parliamentary motions and campaigned at Westminster with the charity Meningitis Now calling on the government to introduce the new vaccine, has also supported the local campaign by Derry parents Emma and Darren Cowey who lost their nine-month-old son Jamie to Meningitis B in November 2004.
Speaking to Highland Radio News, Mr. Durkan says after years of campaigning they've finally got a result......