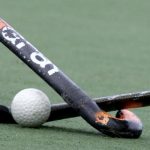 Raphoe's hopes of reaching the final of the Irish Trophy Cup came to an end when they were beaten 3-1 by a fancied Bandon side.
In an exciting semi-final in Raphoe, Bandon led 2-1 at the break.
Raphoe pushed hard for an equaliser but the Cork visitors struck again late on to seal victory.
Afterwards Raphoe's Rodney Bates gave his reaction to Chris McNulty.