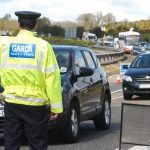 454 drivers were detected speeding - between 7 o'clock yesterday morning and 7am today - during 'Operation Slow Down'.
Gardai launched the 24 hour initiative in an effort to reduce the number of speed-related collisions and officers say reports from around the country show the message was heeded, and there was a visible reduction in speed.
During the operation, GoSafe checked 104,966 vehicles and detected 454 vehicles speeding.
A vehicle was recorded driving at 93 km/h in a 60 km/h zone on the R245 Magheranan, Letterkenny, County Donegal while another was recorded driving at 122 km/h in a 100 km/h zone on the N4 Cloongad, Riverstown, Sligo.
Some the highest incidents of non-compliance were recoded, showing one motorists driving at 124 kilometres per hour -in a 100 kilometres zone - in Clare with another motorist travelling at the same speed on the N5 at Ballymacrah in Castlebar county Mayo.
Gardai are asking motorists to continue to drive safely and to slow down.