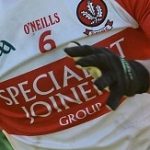 Manager Brian Mc Iver has made six changes to his Derry side for Saturday's game with Dublin at Croke Park.
Emmett Bradley at midfield and Liam Mc Goldrick at half back get their first starts of the year.
James Kielt is fit to line out while the other three changes are Danny Heavron, Conor McAtamney and Michael McIver.
Derry sit bottom of the table without a victory this year and are favourites for the drop.
Defeat to the Dubs would ensure a drop to Division 2 next year.
1. Thomas Mallon / T Ó Maoileoin (An Lúb)
2. Oisín Duffy / O Ó Dubhthaigh (Forghleann)
3. Niall Holly / N Holly / (Eoghan Rua)
4. Kevin Johnston / C Johnston (Dún Geimhin)
5. Liam McGoldrick / L Mac Ualghairg (Eoghan Rua)
6. Conor McAtamney / C Mac an Tiompanaigh (Suaitreach)
7. Michael McIver / M Mac Íomhair (Baile an Doire)
8. Mark Lynch (C) / M Ó Loingsigh (Beannchar)
9. Emmet Bradley / E O'Brolachán (Gleann)
10. Sean Leo McGoldrick / S L Mac Ualghairg (Eoghan Rua)
11. Daniel Heavron / D Heavron (Machaire Fíolta)
12. Enda Lynn / E Loinn (Grainloch)
13. Benny Heron / B O'hEarain (Baile na Scrine)
14. Emmett McGuckin / E Mag Eocháin (Machaire Fíolta)
15. James Kielt / S Ó Caoilte (Cill Ria)