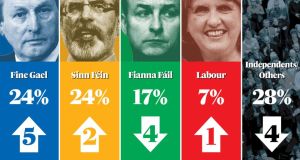 A new poll shows support for Fine Gael is recovering and a rise in the satisfaction rating of the Taoiseach.
The latest Ipsos MRBI survey in today's Irish Times has support for the main government party at 24 percent - up 5 on the last poll.
Enda Kenny's support rating meanwhile has jumped 9 points to 28 percent.
Sinn Fein are still scoring well with voters - they're also on 24 percent, an increase of 2 points.
Labour are up one to 7 percent, while Fianna Fail have suffered a four point drop to 17 percent.
Independents are also down in this latest poll - they're now at 28 percent - a fall of 4 points.