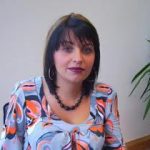 Sinn Féin Cllr Elisha McCallion has been elected Mayor of the new Derry and Strabane Council. which formally takes office next week.
She was elected to the position at the council's AGM in the Guildhall tonight.
Speaking in the Guildhall after being appointed as the first mayor of the new council, Councillor McCallion said as mayor, she wants to reflect what is a new era for local government in Derry, Strabane and the wider north west.
She said she wants to be a mayor for everyone, and will seek to promote partnership-working, respect, inclusive politics and equality.
While the geography may be different, she added, there is one thing that is constant right across the new council area – its people. New council arrangements, she said, will require new relationships which must build on the historical connections between Derry and Strabane.
Mayor Mc Callion paid tribute to the outgoing councils in Derry and Strabane, saying that Derry, once a byword for discrimination, is now recognised and celebrated internationally as a centre of respect and tolerance, while Strabane Council has shown how people working together ensures everyone is treated with respect.