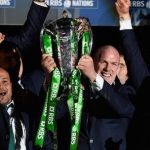 One of the most incredible days in sport ended with Ireland crowned Six Nations Champions.
Their 40-points to 10 defeat of Scotland at Murrayfield meant England had to beat France by 26-points at Twickenham.
Stuart Lancaster's side fell short by seven points, and were pushing for a try right until the death in a 55-35 win at Twickenham.
So for the second year running, the title is Ireland's.