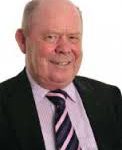 A Christmas Eve assault on the grandson of Ireland's longest-serving politician has cost the attacker €3,000 to avoid a term in jail.
Judge Kevin Kilrane described the attack on Sean McIntyre, Donegal County councillor Sean McEniff's grandson, as "absolutely outrageous."
He said it was an aggravated attack when student Conor Gilmartin "pulverised" Mr McIntyre in the early hours while he was held on the ground by another man.
The judge gave 19-year-old Gilmartin one month to pay compensation or he would face a jail sentence.
Ballyshannon District Court heard that Sean McIntyre saw two men punch a shutter in Bundoran.
When he asked the men to remember it was Christmas and to allow people to sleep he was attacked.
Mr McIntyre, 25, told the judge that he was left with two black eyes for Christmas.
The court was told that Gilmartin only returned from India that day and he was out that night and he had consumed alcohol in Bundoran's Paris nightclub and he was suffering from jet-lag.
Gilmartin told the judge he couldn't explain his behaviour and he accepted that he took part in the attack.
The judge said Gilmartin had lied originally, claiming it was self-defence. He hadn't offered an apology to Mr McIntyre or any member of his family until it was proferred in court by his solicitor Florence Hutchinson.
He told Gilmartin, who was accompanied in court by his mother and grandmother, that he had one month to pay €3,000 compensation or he would face a prison sentence.
Gilmartin, of The Rock, Ballyshannon, admitted the assault causing harm on Mr McIntyre.
The case was adjourned to April 17.
Cllr McEniff has been a public representative for 55 years when he first entered politics on his local Bundoran town council.