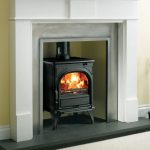 Donegal Fire Service has urged caution after a number of fires involving multi-fuel stoves.
The local fire service said it had noticed a rise in fires, some serious, involving the burners in domestic dwellings around the county.
The stoves became hugely popular across Ireland during the recession as householders tried to reduce their reliance on oil heating.
Donegal Fire Service says accidental fires involving the stoves may be due to incorrect installation or lack of ongoing maintenance.
It said fires could be avoided by following several common sense, practical steps, particularly when installing and maintaining multi-fuel stoves.
In particular they said this is the case with respect to retro fitting of these heating appliances to existing homes where metal flues or similar are fitted to run through existing construction or are enclosed in timber stud and plasterboard construction.
They say a minimum separation distance must be maintained from the flue to any combustible construction, to prevent ignition through radiant heat.
They said if anyone intends to have a stove installed, to ensure that they employ a competent person.
They concluded that if the stove is used every day, the flue or chimney may need to be cleaned more than once a year depending on the type of fuel burned.