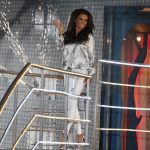 Channel 5 has signed up for another three years of Big Brother – keeping the controversial show on air until 2018.
The station said it would continue to show one series of Big Brother every year along with two series of the celebrity spin-off version.
Channel 5′s chief operating officer Paul Dunthorne said: "Big Brother in all its guises brings a huge and varied cross section of viewers to Channel 5 and typifies the appointment-to-view programming we want on the channel. It remains one of TV's most talked-about and popular programmes and I'm genuinely delighted we've secured it for at least three more years."
The show, originally broadcast in the UK on Channel 4, has been a huge success for Channel 5 and guarantees them big audiences as well as a steady stream of controversy.
Earlier this month, media watchdog Ofcom said it would not investigate the latest Celebrity Big Brother, despite receiving thousands of complaints.
The series – which was eventually won by reality star and model Katie Price – was dogged by controversy with former Coronation Street star Ken Morley, singer Alexander O'Neal and former Baywatch actor Jeremy Jackson all leaving the house unexpectedly.
Morley, 72, was evicted for using "unacceptable language", O'Neal quit following a series of heated exchanges with Perez Hilton and Jackson, 34, was booted out after former Page Three girl Chloe Goodman claimed he drunkenly tried to look at her breasts while they were alone in the toilet.
He was subsequently given a police caution for common assault.
The show has a history of controversy and the previous series was the second most complained-about show of last year, with 1,874 people contacting the watchdog.
The only programme with a worse record was the main Big Brother series which received 3,784 complaints, many centred on the behaviour of its eventual winner Helen Wood, who was accused of bullying other contestants.
Last year, Ofcom found the main show breached the broadcasting code after a pre-watershed scene where housemates swore 14 times within 50 seconds.