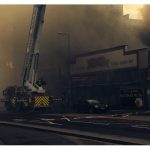 A week after a fire destroyed the Mandarin Palace restaurant on Derry's Queen's Quay, its owner has said he and his family are totally devastated, and numb with shock.
Stan Lee initially opened the Mandarin palace on Strand Road in 1989, and it later moved to Queen's Quay.
In a statement, he says the messages of support from Derry, Donegal and further afield have been a huge help in the past number of days.
Stan Lee says he and his family have been overwhelmed by the huge amount of public support they have received from Derry and Donegal since the fire last week. He says people have rallied around them, and they have received goodwill messages from around the world.
At this present moment, he says, his thoughts are with the 68 local staff and over 20 local suppliers who served the restaurant, as well as with customers who had booked for Mothers Day, St Patrick's Day and beyond.
He pays tribute to the brave and prompt action of the emergency services, saying the Fire Service and the PSNI responded promptly, and thankfully there were no injuries.
Mr Lee does not mention whether he intends to rebuild the Mandarin Palace, or what his future plans are, but in thanking customers for their support over the last 25 years, he says he hopes to see them in the near future.