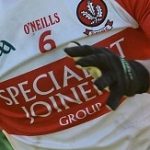 Derry boss Brian McIver has made two changes to the Oak Leaf starting line up for Sunday's game away to Monaghan.
Emmett McGuckin returns to the full forward line replacing Aidan McAlynn and Thomas Mallon comes into goals to replace Eoin McNicholl.
With three games to play Derry are without a win and bottom of a Division 1.
The Derry football team to play Monaghan at Clones this Sunday (2.30pm) is as follows:
1. Thomas Mallon / T Ó Maoileoin (An Lúb)
2. Oisín Duffy / O Ó Dubhthaigh (Forghleann)
3. Niall Holly / N Holly / (Eoghan Rua)
4. Dermot McBride / D Mac Giolla Bhrighde (Baile na Scrine)
5. Brian Óg McAlary / B Óg Ó Cleirigh (Cill Ria)
6. Kevin Johnston / C Johnston (Dún Geimhin)
7. Sean Leo McGoldrick / S L Mac Ualghairg (Eoghan Rua)
8. Mark Craig / M de Creag (Dún Geimhin)
9. Brian Óg McGilligan / B Óg Mac Giollagáin (Beannchar)
10. Benny Heron / B O'hEarain (Baile na Scrine)
11. Mark Lynch / M Ó Loingsigh / (Beannchar) (capt)
12. Enda Lynn / E Loinn (Grainloch)
13. Daniel McKinless / D Mag Aonglais (Baile an Doire)
14. Emmett McGuckin / E Mag Eocháin (Machaire Fíolta)
15. Carlus McWilliams / C Mac Uilleim (Baile na Scrine)