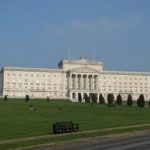 Both the British and Irish Governments have expressed concern over the latest crisis in the Northern Ireland Assembly, after Sinn Féin suddenly withdrew its support for welfare reform.
Moving to block the bill, Sinn Fein's Martin McGuinness accused the DUP of reneging on commitments.
DUP leader Peter Robinson said that was "dishonourable and ham-fisted", saying that the DUP would implement every word and number that had been agreed.
A spokesman for British Prime Minister David Cameron said he found the development "deeply concerning".
Foreign affairs minister Charlie Flanagan called on the Northern parties, to work together to find a solution to the current difficulties on welfare................