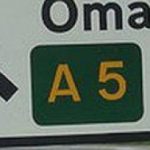 The North's Deputy First Minister Martin McGuinness says there's been major progress on the A5 upgrade, with Regional Development Minister Danny Kennedy confirming that draft orders for the A5 will be published within weeks.
The update came at a meeting of the Executive Subgroup on Regional Opportunities, which was also told that the A6 between Derry and Antrim is almost at a shovel ready position.
Mr Mc Guinness says this shows the importance of the ministerial subgroup in terms of bringing a cross departmental focus to the north-west.
West Tyrone MLA Declan Mc Aleer is a member of Stormont's Regional Development Committee. He says it's a significant development..............