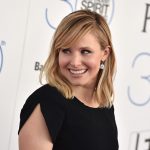 It's the film that took the world by storm and got everyone singing "let it go".
But the star of Frozen, Kristen Bell, has revealed her two daughters – two-year-old Lincoln and Delta, one – have yet to watch the hit Disney animation, as they are still a bit young.
The actress, who voices Princess Anna, told Us Weekly of her eldest daughter: "She's (Lincoln) never seen Frozen! She is not my biggest fan. She just doesn't know what I do for a living!"
However, Kristen can't wait to show her children her work eventually, telling People: "It will be exciting to show them Frozen one day because it's a story of sisters. When they both start watching TV, I think it will be a very special day in our household."
Kristen, whose husband is funnyman Dax Shepard, admitted she worries what her kids will think of the film, which has become one of Disney's top-grossing movies of all time.
"I hope I don't show them the movie and they both go, 'Eh'," she added.