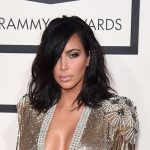 Of all the people to seek fashion advice from, it seems Kim Kardashian turns to none other than Eastenders' Kat Slater to hook her up with her glamourous red carpet outfits.
Only kidding, Kanye would not permit it, but eagle-eyed Easties fans were quick to spot Walford's market stall trader flogging the socialite's famous VMA dress.
You remember, the Peruvian rug with the dramatic plunging neckline?
Presumably, Kat was flogging a cheaper knock-off version of Kim's printed Balmain mini dress in Albert Square but you can't really knock the girl for trying, can you?