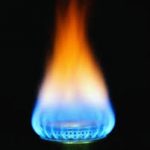 A project to connect around 40,000 homes and businesses in Derry, Tyrone and Fermanagh to the gas network is being formally launched in Enniskillen on Wednesday.
The Gas to the West scheme will cost around £250m, including a grant of up to £32m from the NI Executive.
It will involve approximately 200km of pipeline linking the towns to the existing network and 500km of gas mains and services within the towns.
The BBC is reporting that construction work on the project is due to start later this year, with Strabane being the first town connected by late 2016.
A pipeline running from Portadown will be the second phase of the project linking Magherafelt, Cookstown, Coalisland, Dungannon, Omagh and Enniskillen.
The final phase will involve extending the pipeline from Enniskillen to Derrylin, with construction work is due to be completed by 2018.
The construction phase should provide work for around 200 people.
Mutual Energy already controls the gas pipeline between Scotland and Northern Ireland, while SGN owns networks in Scotland and the south east of England.
The key issue of how much the service will cost is still to be decided, with yhe companies saying they are working with the Utility Regulator to agree a pricing policy.