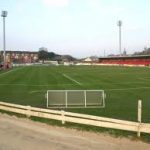 Celtic could officially open Derry's new Brandywell stadium when refurbishment work is completed next year.
Derry Chairman Philip O'Doherty has told today's Derry Journal that the Glasgow giants first team could play at the new 6,000 seater venue when work is completed before the start of the 2016 season.
The game would be part of the recent deal where Michael Duffy moved to Celtic.
O'Doherty said he cannot take anything for granted though he was happy with the response he recieved when negotiating the Duffy deal.