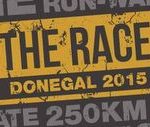 On Sunday the 7th March The Race, a multi sport ultra endurance event returns to Donegal.
It's a 250km long course which must be completed within 24 hours.
The Race has been organised in conjunction with Gartan Adventure Centre.
On Saturday Sport, Chris Ashmore was joined in studio by The Race organisers David Byrnes and Sebn McCrudden.