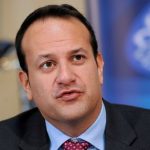 Health Minister Leo Varadkar says there will be no extra money available for waiting lists at Letterkenny General Hospital.
Donegal North East Deputy Charlie Mc Conalogue has been campaigning for some time to have special consideration given to over 1,300 people in Donegal who were on the government's waiting list initiative up to 2013, and have been returned to the local list.
Deputy Mc Conalogue says while half of those referred were treated, the rest were not, and they should not be disadvantaged.
However, Minister Leo Varadkar said he has no extra money available, and stressed that people are not being disadvantaged ……..