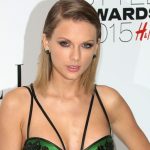 Pop superstar Taylor Swift has been named woman of the year at the Elle Style Awards.
The singer, due to perform at the Brit Awards, follows in the footsteps of Katy Perry, Taylor's rumoured foe, who won last year, at a ceremony which also saw Cara Delevingne crowned breakthrough actress.
Taylor was presented with her award at the glamorous event by another winner, Sam Smith, who was named musician of the year.
Guests at the event at the Sky Garden at London's 20 Fenchurch Street, commonly known as the Walkie Talkie Tower because of its distinctive shape, included Pixie Geldof, M.I.A. and Naomi Campbell.