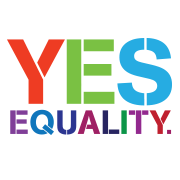 The Yes Equality national 'Pledge to Vote' have launched their campaign in Co Donegal today.
The campaign aims to encourage young voters across Ireland to come to the polls this May – pledging to make their voices heard in the referendum on civil marriage equality.
The campaign is operating nationwide through a network of young Yes Equality volunteers, and on social media.
Speaking at the launch, Donegal GAA player Eamonn McGee gave his reasons why he is voting yes...