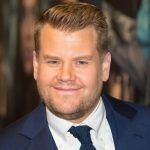 James Corden has hinted that One Direction could be among his first guests when he takes over as host of The Late Late Show.
The Into The Woods star will front the US talk show from March 23 and 1D stars Harry Styles, Liam Payne and Louis Tomlinson have already appeared in the first trailer for the programme.
Actor James explained that he was good friends with the lads, telling E! News: "I've known them for a long time, that band, and I love them all very much. I class them all as friends and I've known Louis since before he was in One Direction."
It also helps that James's Late Late Show executive producer is Ben Winston, the band's video and documentary director.
James continued: "Ben and I actually wrote one of their music videos. We get on great. They're really great friends.
"They had a month off – could you imagine what their lives are like or how many people ask for their time? – so we just called and said, 'Look, we've got this idea… Can we come for 20 minutes and just do it and they all just went, 'Of course. Yeah, absolutely'."
"They're really special boys. I love them very much. I can't wait for them to come on the show."