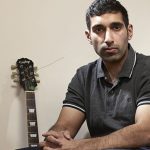 Gogglebox star Baasit Siddiqui has admitted he has to be careful what he says on the show in case his mother-in-law is watching.
Schoolteacher Baasit stars in the hit Channel 4 show with his brother Umar and father Sid, but is worried about another important member of his family who might be tuning in.
"After the first episode I got loads of texts saying well done and then there was one from my mother-in-law saying 'You could have shaved! What's wrong with you!'
"She likes the show and she's a very nice lady, but I have to remember to bite my tongue sometimes because I'm so casual when the cameras are rolling. I know I'm going to slip up one day and end up offending her!"
But teacher Baasit insisted he didn't have to worry about his pupils seeing him on the show.
"I haven't had much stick from the kids to be honest," he said. "Most of them are really good about it. Quite a lot of them always ask me to mention them on the show as well!"