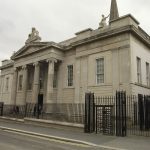 A man charged in connection with a cannabis find worth up to £400,000 was being used by 'much more sinister people' a solicitor told Derry Magistrate's Court today.
25 year old Thomas Brolly of 26 Coolessan Walk in Limavady is charged with possessing cannabis with intent to supply, possessing the drugs, cultivating cannabis and being concerned in the supply on October 23 last year.
At a bail application today a police officer told the court that 750 cannabis plants had been found in a new build and the owner arrested.
The next day brolly handed himself in claiming that the plants were nothing to do with the owner but were his.
The officer said this was 'an unusual set of circumsatnces'.
Brolly then made a no comment interview and was later asked why had he handed himself in he replied that he was 'off his head on speed.'
The officer said that the owner of the property was since deceased.
Defence solicitor Mr. Paddy MacDermott said it was 'a strange set of circumstances' and that 'much more sinister people were involved.' He said by handing himself in, Brolly showed he was not someone at the higher end of an organised gang.
Deputy District Judge John Connolly said it was 'a bizarre case' but he was concerned at the amount of drugs involved and the risk Brolly could re-offend. He refused bail and remanded Brolly in custody to appear again on March 19.