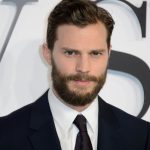 Fifty Shades Of Grey star Jamie Dornan has said he is going to flee the country to avoid the hype around the controversial film.
The cast of the big screen adaptation of EL James' hit erotic novel were greeted by adoring fans – along with protesters who say the film promotes abuse – at its London premiere in Leicester Square.Appearing on tonight's Graham Norton Show, Dornan said: "I am fleeing the country. I am certainly not going to stand in Leicester Square without my shirt, asking people if they enjoyed the movie! I am keeping a low profile."
Jamie, who plays suave businessman Christian Grey who seduces college student Anastasia Steele (Dakota Johnson) into an S&M relationship, said it was "a relief" now that the film had been released.
The worldwide fame is a long way from his early days in Hollywood where he shared a flat with another struggling actor – Eddie Redmayne.
He said: "We had long stints when we tried and failed to work. We were really unemployed and really single. We did nothing – it was really bleak.
"We used to have the same agency and they would send three scripts to Eddie and 26 to me, which just meant there were 23 more jobs I tried and failed to get."